The Nickelodeon Network is going to be filming a U.S. version of the popular British family oriented game show "Crystal Maze" and  Nickelodeon is having an online audition for Crystal Maze. There is a casting call out for kids and their families that would like a chance to get on a Nickelodeon show.
Nickelodeon, which is owned by Viacom has ordered the show for distribution in the United States and is looking to cast kids between the ages of 9 and 13 to compete on "Crystal Maze." The new Nick show is being produced by Bunim-Murray which is also behind such shows as The Real World and Keeping Up With The Kardashians. The UK's version of "Crystal Maze" airs on UK's Channel 4.
Crystal Maze is a reality competition in which teams must complete both physical and mental challenges in order to get through, you guessed it… a giant maze. In the UK show, the team will navigate through multiple, large, themed zones.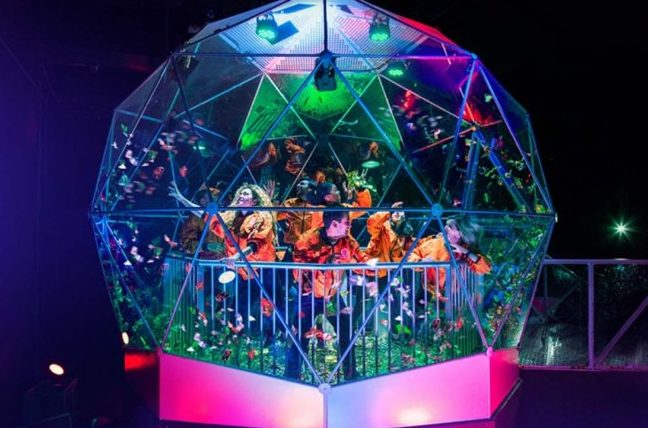 According to a story in deadline, the Nickelodeon version, will consist of family members. Those families will take on a range of challenges in zones collectively known as The Crystal Maze. Each successful game is rewarded with a 'time crystal' that equals five seconds in the centerpiece Crystal Dome. The adventure culminates in a finale, as the team enters the Dome to grab a cash prize as it flies around them during a countdown.
The show is reported to have ordered 10 episodes for season 1 and a premiere date is yet to be announced.
The Nick show is holding auditions in the U.S. (it seems) and the details are below:
Nickelodeon is bringing the UK's HIT FAMILY GAME SHOW to the US for the first time and is searching for AMAZING FAMILIES to take on THE CRYSTAL MAZE for a chance to win a HUGE CASH PRIZE!
Bunim/Murray Productions is NOW CASTING FAMILIES OF FIVE that include at least two children 9-13 years old.
Does your family have what it takes to conquer four fantastical zones and tackle a variety of physical, mental, skill, and mystery challenges in this epic adventure game show?
FOR MORE INFO EMAIL CASTINGNOW@BUNIM-MURRAY.COM
APPLICATION SHOULD BE COMPLETED BY A PARTICIPATING PARENT OR GUARDIAN
FILMING WILL TAKE PLACE IN THE UK. PARTICIPANTS MUST BE ABLE TO TRAVEL AND HAVE A VALID PASSPORT BY AUGUST 2019.
You can also check out the show's web page athttps://www.bmpcasting.com/crystalmaze/  for the online audition form.